Crusellska
Your accommodation by the sea!

Since the early 19th century. the Crusell villa has been a local historical property that characterized Strömstads urban development. It was then built as a hot bathhouse with seaweed bath and massage.
The house is centrally located within walking distance of restaurants, shopping, trains and the Kosterboats in the harbor.
We really look forward to having you as a guest here with us in the family-owned old house.
We offer rooms with a private bathroom/shower or you can choose a simpler option with a bathroom in the corridor, or why not live in the "pink house", where you live in a small cabin with an attached kitchen and bathroom. Your pet is also welcome there.
In the lounge you have access to books and games. A shared kitchen is available. Also a wonderful garden.
All renovated during spring/summer 2023
Welcome
BOOK NOW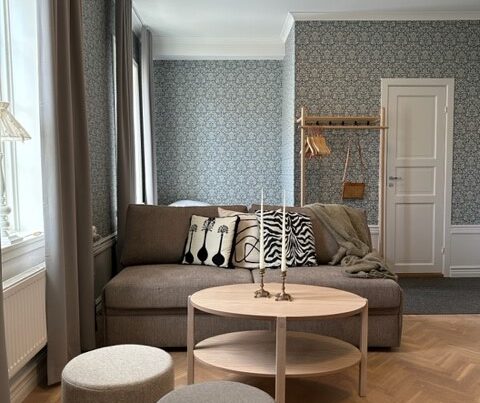 CRUSELLSKA – YOUR ACCOMONDATION BY THE SEA!
Welcome to our welcoming hostel in the heart of Strömstad. We are proud to offer a unique and memorable stay for our guests. With our stunning coastal location and close proximity to beautiful beaches, scenic walks and exciting attractions, we are the perfect choice for travelers looking to explore the wonderful west coast.
We look forward to welcoming you to our hostel in Strömstad and helping you create great memories during your stay. Whether you are traveling alone, with friends or family, you will feel right at home with us. Take the chance to discover everything that Strömstad has to offer and let us be your base for an unforgettable trip. Welcome to us!
Quality beds from Hilding
We are proud to offer quality beds from Hilding. Our beds are Nordic Ecolabeled asthma allergy connected and organic
Bedlinen / Towels
One set of bedlinen / towel is included per person
Lounge
Our common lounge offers a relaxed atmosphere where you can relax, read or just socialize with travelers.
Kitchen
In the fully equipped common kitchen, you can cook and prepare your meals.
Breakfast bag*
Contains sandwich, yogg with granola, chocolate ball.
*Against supplement
Parking
We have a limited number of free parking spaces available for our guests.
Wifi
Wifi is available throughout the hostel.
Pets
If you come with pets, you are welcome to stay in the pink house.
Double room
Private bathroom
Double room
Shared shower/toilet in corridor
Single room
Shared shower/toilet in corridor
3 beds room
Private bathroom
Family room
Private bathroom
4 bed cottage
Small cottage located in the backyard.